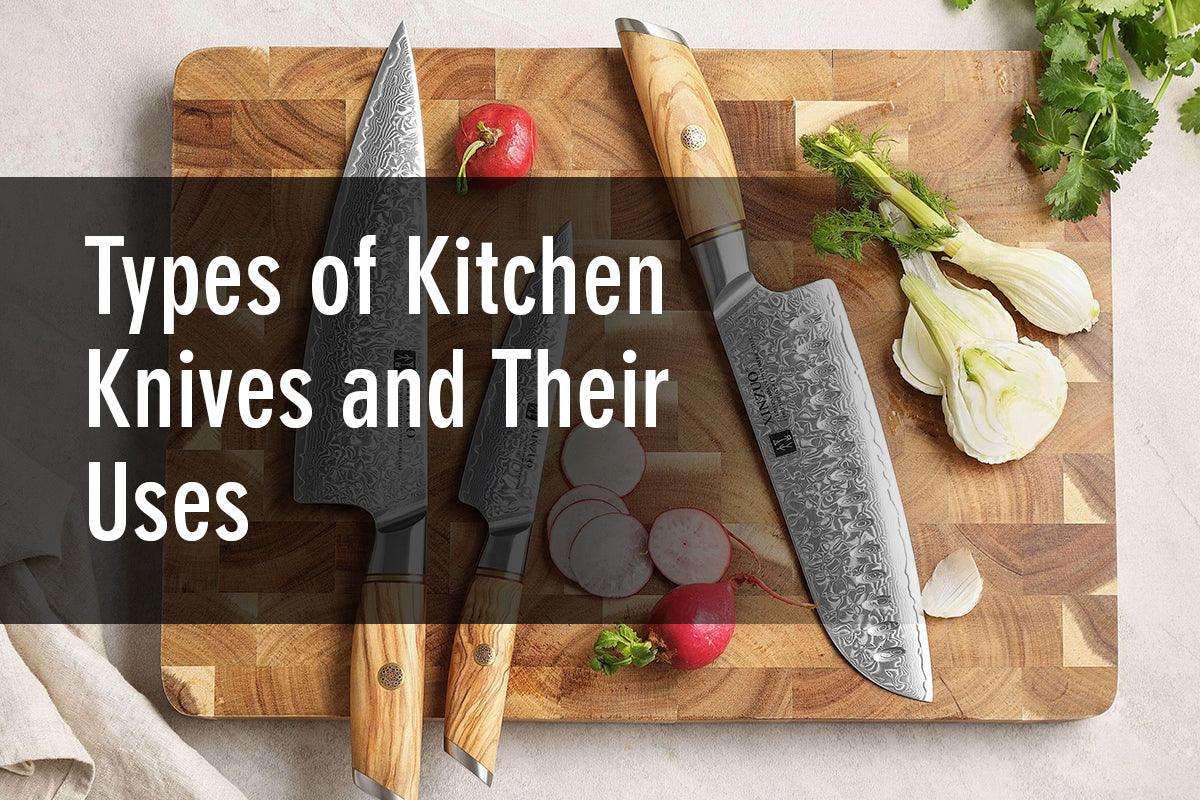 Our Exhaustive Guide to Types of Kitchen Knives and Their Uses
Have you ever tried to prepare a meal or eat a steak without a knife? We are very sure that the answer is no. Knives are indispensable to the process of cooking and eating. But, it can be quite daunting to decide what Knife to add to your collection. There are so many varieties with complex descriptions and each one with a different purpose. That purpose is what should guide your decisions. Do you bake, regularly serve fish, or prefer fresh veggies vs prepacked or frozen? Knowing the answer to these questions is important.
While we believe that it would be nice to have every type of knife in your collection, we also believe for most people you can do just fine with a small collection of the "Must Have Knives For Yor Kitchen".
If you are buying more than one knife (the most important Knife would be the all-round Chef's Knife), we recommend you start with the 3 most popular knives, which are the Chef, Santoku or Nakiri and a Utility knife. You can get a Nakiri instead of the Santoku if you like, some chefs prefer one over the other. The next 2 popular Knives are the Paring and Bread knife, making it a very nice 5-piece collection. If you want to add more to your collection, adding a Boning, Carving or Cleaver knife really adds more capabilities to your kitchen and collection. In another blog post we will talk more about specific specialty Knives like Cheese, Tomatoes, and Sushi knives. We have prepared this guide to take the guesswork out of your purchase.
Chef Knife
If you can only purchase one knife, a Chef would be the one we recommend. In fact, if you could only take one thing onto a deserted island this would be it. No knife is quite as versatile as the Chef's knife. It can perform at least 80% of the cutting in your kitchen.
Although Chef knives come in 6" to 12", the range we stock is on average 8" which is thought by many to be the perfect length for comfortable handling. Chef knives have a curved blade which makes it easy to finely chop your ingredients whether they are vegetables or herbs.
Uses: A Chef knife can be used for almost every kitchen task from cutting meat to chopping vegetables and everything in between.
Santoku Knife
As with the Chef knife, Santoku is another knife you, would want to add to your collection because it has so many qualities that will make cooking a dream. It has a blade that is slightly thinner than a Chef knife.  
The Santoku doesn't have a tip, which influences how it operates. It tends to be shorter than a Chef's knife which may be more comfortable for some.
Uses: It can do most things a Chef knife does but produces a thinner slice. This may be preferable in certain types of cooking but it really stands out as a great vegetable knife.
Nakiri Knife
A Nakiri knife has a rectangular blade and is most ideal for managing vegetables. The Nakiri is similar to a Santoku in that it is quite large and versatile. It tends to look like a more sophisticated version of the Chinese cleaver with a straight blade edge that enables precise cuts. For a lot of people it comes down to personal preference between the Nakiri and the Santoku.
Uses: Slicing, dicing, and chopping vegetables like a pro. In fact, just about anything to do with a vegetable works well with a Nakiri.
Utility Knife
The utility knife is a great all-purpose knife, smaller and thinner than a Chef knife but with a long list of ways, it can be used. Utility Knives are particularly useful when you don't need the heft of a Chef's knife.
Uses: Utility Knives are ideal for tasks like corning, trimming and deboning, plus peeling and chopping smaller vegetables and herbs. Mincing up shallots and chopping herbs will be an absolute dream with a Utility knife.
Paring Knife
Paring knives are excellent for fine work like peeling vegetables or creating intricate designs out of them. It is the knife most commonly used for these specialized purposes. Paring knives are very versatile and can often be spotted in a professional chef's kitchen. In fact, many chefs would recommend a Paring knife because of how much it can be used.
Uses: Whether you need to slice vegetables into small pieces or peel a potato this is the right knife for the job.
Bread Knife
Experience the pleasures of slicing bread effortlessly. Bread knives are designed to slice through crusty loaves without ripping or tearing them apart. Bread knives are typically long with serrated edges to make them easier to use.
Uses: Bread knives are used for slicing and cutting baked goods especially different types of bread, but could also be used for cutting meat in a pinch.
Cleaver
A cleaver is a large blade that is usually square and heavy for easy chopping and slicing. It is ideal for tasks that require weight and force. Think of the last butternut or chicken you had to cut through, a cleaver may have benefitted you then.
Uses: A cleaver is a perfect knife for chopping, slicing, or dicing all types of vegetables as well as tough cuts of meat, bones, and sinews.
Carving Knife
It goes without saying that a Carving Knife is exactly what you need when you are slicing up a roast and other large cuts of meat. Carving knives are meant for people who are more comfortable wielding a knife and those who are use to carving up dense meats. A carving Knife is perfect for cooks who like to experiment with larger meals.
Uses: A Carving knife slices the most beautiful thin slices from your weekend roast. Carving knives are mainly meant for handling meats whether it is a chicken, big bone in Prime rib or a leg of lamb.
Boning Knife
It is quite an ominous-sounding name, but the purpose is well known. Boning knives range from 3" to about 8" and are used to separate the meat from the bone. They can range from flexible to stiff, with varying widths . Most chef's prefer the stiff for a more precise cut.
Uses: As the name implies Boning knives are used to remove bones in various cuts of meat. It performs the job easily and quickly with a sharp blade.
Steak Knife
Have you ever tried to eat a steak with a butter knife? Probably not and there is a reason for that. Steak knives possess all the qualities you need to enjoy your steak dinner. Most Steak knives are usually constructed from metal or stainless steel and will often feature a very slightly serrated edge to help with tougher foods.
Uses: It is specifically designed to easily slice through the meat in your meal whether that be a steak, lamb shank or porkchop
Browse our collections for a wide variety of knives to suit every collection. And let us know if there are any questions you need answered. We would love to help with making decisions about the next member of your kitchen repertoire.
Happy cooking!