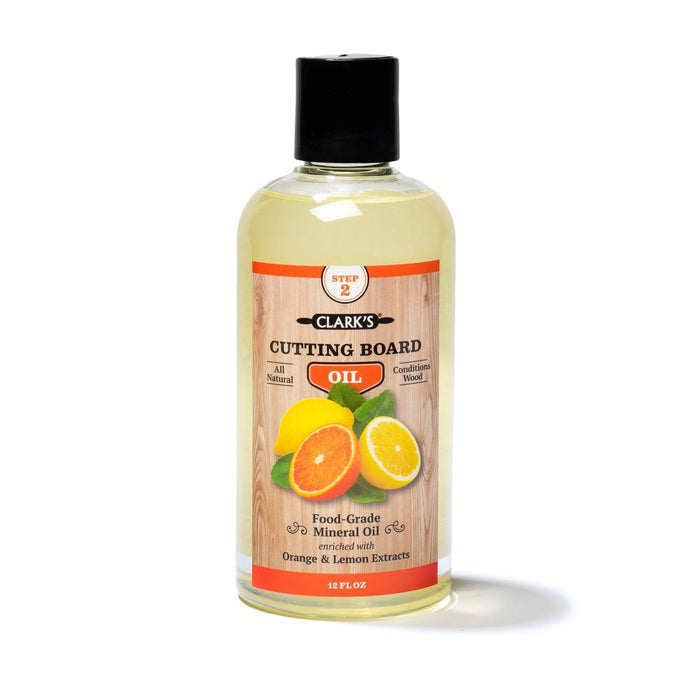 CLARK'S Cutting Board Oil - Lemon and Orange Extract Enriched
Availability:
in stock, ready to be shipped
Save

35

%
Save

35

%
Original price
$35.95
-
Original price
$35.95
Delivery time
You have 30 days to request a return. All sale items are final sale.
CLARK'S Cutting Board Oil is a delightfully scented formula that's easy to apply and works beautifully to restore and revive your wood surfaces. Whether it's Granddad's butcher block, the cutting board you received as a wedding present, a wooden salad bowl you picked up at the market, or an end-grain counter top at your very own restaurant, you take pride in making sure they are all well maintained. A few moments of work will bring a lifetime of joy with your wood treasures!

Kitchen surfaces and tools take a beating. Between sharp knives, water, soap, and temperature fluctuation, wood begins to dull, warp, and show wear. This is when a good conditioning oil is needed. Wood naturally wants to absorb everything it can. That's how trees breathe. Your cutting board or butcher block is also soaking up everything it touches (good and bad), that's why you need cutting board oil with anti-microbial properties to penetrate deep into the wood to block bad bacteria from entering the wood fibers. CLARK'S is obsessed with healthy eating which is why our oil exceeds the FDA regulation on food safety and will never go rancid or harbor germs like plant-based oils.
Why You'll Love It?
Penetrates Deep into the Wood
Apply a generous amount of oil evenly to the wood surface and allow it to penetrate for 1-2 hours. Make sure you oil all sides. Oil works its way deep into the grain of your wood surfaces.
Perfectly Scented with Essential Oils
Perfectly blended with organic natural lemon and orange oils.
Prevents Drying and Cracking
Oiling cutting boards or butcher blocks every 3-4 weeks helps prevent wood from drying, splitting or cracking.
Food Safe and Antimicrobial
CLARK'S Oil will never go rancid or harbor germs like plant-based oils. Safest butcher block oil on the market with ingredients that exceed thee United States FDA regulations on safety for direct and indirect contact with food.
What Products Is This Safe To Use On?
Butcher blocks need a VERY low viscosity oil that penetrates deep because of the thickness of the wood
Hardwood counter tops and islands are not only provide a stunning look to your kitchen, they are functionally magnificent and will continue to wow with regular care
Maintain your often overlooked wooden utensils, salad bowls, serving trays and pizza peels.
Terrific for bamboo cutting boards, serving trays, utensils, drawer organizers, bowls, well...you get it, anything bamboo.
Cutting Board Care
Step 1 – CLEAN
Wet cutting board on all sides in the sink
Apply CLARK'S Cutting Board Soap to one side of board
Use CLARK'S Scrub Brush or similar brush to scrub soap until a rich lather forms
Clean all sides of cutting board
Rinse board with warm water
Dry board with a towel
Step 2 – PRESERVE
After board has sufficiently dried apply CLARK'S Cutting Board Oil to surface of wood
Rub oil into kitchen-knives without spreading too thin
Coat all sides evenly (rest cutting board on a plate to help keep your counter clean)
Allow oil to penetrate wood for 1-2 hours (If applying oil to new untreated wood, repeat above oiling steps several times over a 24-hour period)
Wipe off any excess oil with a paper towel
Step 3 – PROTECT
Apply a small amount of CLARK'S Cutting Board Wax Finish to surface of wood
Use CLARK'S Applicator or paper towel to coat all sides of wood in a thin layer of wax
Allow wax to penetrate wood for 20-30 minutes
Using CLARK'S Buffing Pad or paper towel, buff off any excess wax
CONGRATULATIONS! Your wood is now Food-Safe and ready to use