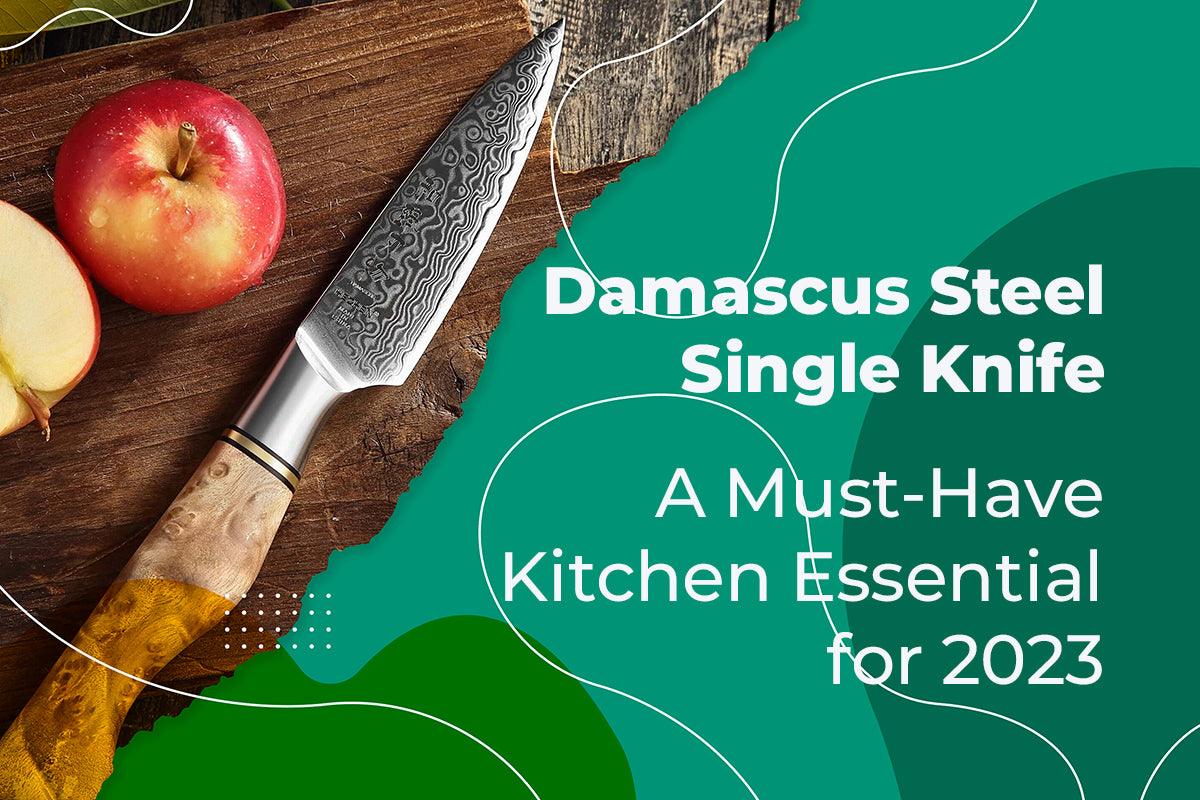 Damascus Steel Single Knife: A Must-Have Kitchen Essential for 2023
Everybody craves a seamless cooking experience where meal preparation is a delightful adventure. And you know what? Investing in reliable knives is the secret ingredient to unlocking your culinary potential.
If you'd like to take your cooking game to the next level, let us introduce you to the magnificent world of Damascus knives!
Imagine holding a knife that boasts intricate patterns. But wait, these knives aren't all about aesthetics. Their durability, sharpness, and precision allow you to effortlessly dice, slice, and
mince any food that comes your way.
This guide digs into some popular options to help you pick the best Damascus knife for your kitchen.
Damascus Knife: Our Top Picks
In the kitchen, we deal with diverse ingredients that require precise cutting. From delicious meats to crisp vegetables, cooking demands sharp and durable blades.
Thankfully, investing in a Damascus knife offers that and more. The razor-sharp edges of these knives glide through the toughest ingredients while also providing reliability.
You can confidently handle everything from roasts to herbs with a single knife in your arsenal.
Here are our top picks to help you choose one for your culinary adventures.
Hezhen B30 Forged Damascus Bread Knife
The B30 Break Knife is a masterpiece emerging from the knife city of Yanqjiang. This bread knife can grace any kitchen for years to come due to its artistic design.
Its serrated edge and curved tip seamlessly slice through numerous foods, including:
Bagels
Baguettes
Bread
And delicate cake
The knife's exceptional construction sets it apart from traditional knives. The blade has unmatchable durability and sharpness with a core hardness of 60±2 HR and 67 layers of forged Damascus steel.
Besides, if you struggle with control when handling knives, the B30 Bread Knife can be your best friend in the kitchen. It offers a comfortable grip, ensuring precise control over every slice.
Also, while proper cleaning and thorough drying are emphasized, this Damascus knife is highly corrosion-resistant, which is a plus.
Getting your hands on it means investing in a reliable product that will stand the test of time and keep you from frequent knife replacements.
Hezhen B30 Forged Damascus Paring Knife
Hezhen B30 Paring Knife is another versatile tool that deserves a place in your kitchen.
Whether you're a home cook or a professional chef, this Damascus knife brings fine work to your fingertips.
The practicality and precision of this knife make it a reliable companion in the kitchen. It can handle most tasks with finesse, from deveining shrimp to cutting vegetables and fruits. The superior Damascus steel gives it the longevity you expect after investing money in your culinary tools.
The elegant Sycamore Wood handle provides a slip-free grip, and the sharp blade lets you cut through ingredients with minimal effort.
So, if you seek a meticulously handcrafted knife with the finest material, you won't regret buying this one.
Xinzuo B32 Feng Japanese Style Santoku Knife
The Xinzuo B32 Feng is the ultimate multitasker. Known for its versatility, the knife wins the hearts of seasoned and home cooks alike.
The Japanese term "Santoku" translates as "three virtues". In other words, this Damascus knife allows you to master dicing, chopping, and slicing - the foundation of everyday kitchen adventures.
The wide-blade design offers two functionalities.
First, it seamlessly glides through most food types. Second, it makes scooping up food from the cutting board a breeze.
This Damascus knife strikes a balance between reliability and sharpness with its quality materials.
Besides, the handle features a High-Quality Black G10 + Mosaic Brass Rivet, ensuring a secure grip. The B32 Feng Japanese Santoku Knife could be your best bet if you seek extraordinary performance combined with timeless beauty.
Xinzuo B9 Santoku Knife Japanese Style 67 Layers
Xinzuo B9 Santoku Knife is an iconic kitchen companion known for its unparalleled craftsmanship. This knife embraces the essence of dicing, chopping, and slicing - the trifecta of daily kitchen tasks.
The wide blade lets you cut fine and precise slices while allowing an effortless food scoop up from the cutting board.
This Damascus knife has remarkable durability and exceptional edges with its premium steel blend - the formidable 10Cr knife core encased in protective 316L stainless steel.
The Rosewood handle, adorned with single steelhead, offers a comfortable grip. If resilience and precision are of utmost importance in your culinary adventures, you'd be delighted to make this Damascus knife a part of your kitchen.
Hezhen B30 Forged Damascus Chef Knife
The Hezhen B30 was born from the heartland of knife craftsmanship, Yanqjing, the Chinese city popular for its legacy in blade-making. This exceptional knife boasts style and functionality, making it a perfect all-purpose tool.
This knife embraces various tasks, from effortlessly slicing fruits to carving different meat
types. Not only this, but its nimble precision also allows users to chop and dice vegetables
with ease.
Further, it has been designed with the finest materials, including Damascus steel featuring
67 layered blades. This means you get a durable product besides precision.
Further, its comfortable grip is another noteworthy feature.
The Sycamore Wood handle ensures a secure grip, granting unrivaled control as you hold the knife.
Let Xinzuo's 2-decade legacy of innovation elevate your kitchen experience with the matchless allure of this Damascus knife.
Xinzou F3 110 Layer High Carbon Damascus Steel Sakimura Kitchen Knife
If you're looking for a single knife to handle all your kitchen tasks, look no further. The Xinzuo F3 110 Layer High Carbon Damascus Knife is a multifunctional tool that lets you conquer various food types, from slicing fruit to cutting all meat types.
This tool boasts a gracefully curved tip, distinguishing itself from its traditional counterparts. It lets you preserve flavors through delicate, paper-thin slices of fish and meat with its narrow and high-carbon steel blade.
The blade's superior performance and expert heat treatment guarantee sharpness with minimal effort.
However, a razor-sharp blade and its durability are nothing without control. Thankfully, the knife features an elegant handle of Desert Iron Wood and G10. It lets you effortlessly wield its 10-inch blade for slicing meat.
Further, to structural integrity and corrosion resistance are exceptional, with 110 layers of steel. Nonetheless, it requires meticulous care to ensure longevity, from drying to washing and oiling after every use.
If you are looking for a blade of beauty that lets you handle your kitchen tasks skilfully, Xinzou F3 110 is worth investing in.
Xinzuo B9 Bread Kitchen Knife Japanese Style 67 Layers Damascus
The Xinzuo B9 Bread Kitchen Knife is the epitome of functionality and elegance. Its quality blade blends outstanding performance with aesthetics. Each blade has been designed with 67 steel layers to ensure durability.
Its core is made of 10Cr15CoMoV steel - a high-carbon steel known for its ability to offer an incredibly sharp edge when subjected to heat treatment.
Further, the 66 additional layers of stainless steel folded 33 times along the entire length of
the knife make it durable and resistant to rust.
The Rosewood handle combines ergonomic design and Western aesthetics while allowing for a seamless grip. Not only does it reduce fatigue, but it also ensures optimal control while cutting.
The 8.1-inch Bread knife lets you handle the crustiest loaves with confidence.
So, if you aim to take your culinary experience to new heights, this uniquely styled Damascus knife is all you need.
Xinzuo B32 Feng Japanese Style Cleaver Knife
The last on our list, but not to be taken for granted.
The Xinzuo B32 Feng Knife is yet another exquisite blade hailing from the popular city of Yanqjiang, China.
This versatile knife seamlessly handles everything from bone to the tendon. You can dice, slice, and mince various food items with minimal effort. The knife's broad side crushes garlic and ginger easily, whereas its forceful nature tackles tough vegetables like root vegetables and squash.
With the intricate layering of 67 layers and a hardness factor 60+-2, this culinary tool guarantees an enduring place in your collection.
Also, the High-Quality Black G10+ Mosaic Brass Rivet graces your hand with ultimate comfort. So while its stylish design boosts aesthetics, the knife also ensures a secure grip for control.
If you want to elevate your cutting experience while retaining style, Xinzuo B32 Feng can be your go-to kitchen companion.
Maintenance Tips
Taking proper care of your knives is crucial to keep them sharp and reliable.
Here are a few tips to keep in mind.
Hand-wash your knives with warm and soapy water immediately after use.
After washing, dry them thoroughly to keep them from corrosion. A quick wipe with a dish towel will do.
Apply a thin layer of food oil occasionally to maintain the blade's integrity.
Protect the knives by storing them in a knife block or a magnetic strip.
Use a honing rod or an end grain cutting board to maintain the knife's sharpness and straighten the edges.
Avoid using the knives for unintended purposes to keep them from damage.
Closing Notes
A series of steps occur behind every succulent dish, and knives play a vital role in this culinary journey. We enlisted a few Damascus knives that stand out with their aesthetics and practicality.
Their intricate patterns bring a touch of elegance to every cut. From exceptional performance to precision, these knives empower you to handle kitchen tasks like a breeze.
So, what are you waiting for? Unlock your culinary skills and reach your full potential with a Damascus knife today!