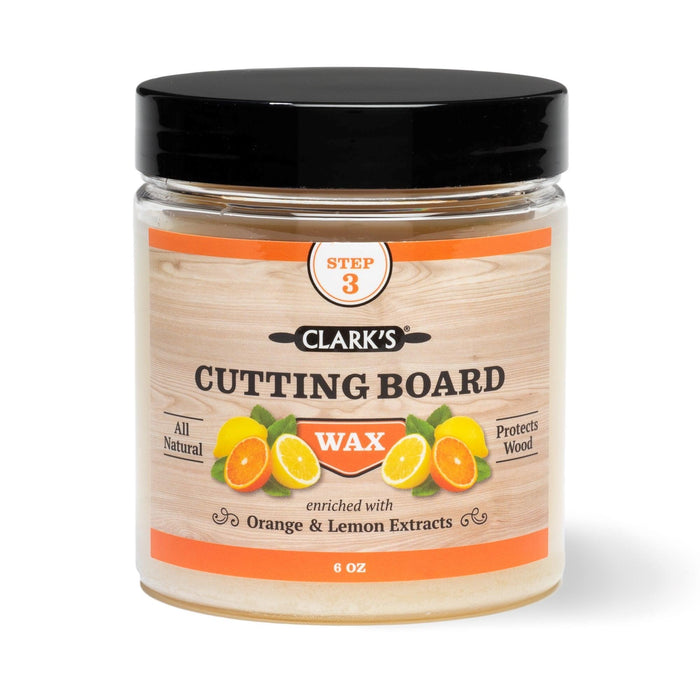 CLARK'S Cutting Board Finish Wax - Orange and Lemon Scented
Availability:
in stock, ready to be shipped
Save

33

%
Save

33

%
Original price
$40.95
-
Original price
$40.95
Delivery time
You have 30 days to request a return. All sale items are final sale.
As the last step in CLARK'S Cutting Board Maintenance, the Finish creates a final protective barrier between your food and your board. It also gives wood a beautiful luster, transforming it from a tool to a show piece.
CLARK'S Cutting Board Finish is a thoughtful mix of carnauba wax, Grow Bags beeswax and food grade mineral oil. This formula goes on easily, and maintains its consistency while being stored between uses.
Carnauba wax is much more expensive than standard beeswax which is why most of the other waxes on the market use little or none. We wanted a little stiffer finish that provides both a luster AND a water resistant coating that will help your pieces last longer and resist odors and unwanted liquids or juices.
What is Carnauba Wax? Carnauba wax coats everything from your dental floss to your surfboard. It's a plant based wax derived from palm leaves and loved for its high-gloss properties on wood…that's why we use it!
Why You'll Love It?
Protective Barrier
After applying oil to your wood surfaces, add another layer of protection from unwanted liquids seeping into your kitchenware by using CLARK'S Wax.
Natural Ingredients
Specially formulated mix of beeswax, carnauba wax, mineral oil, orange oil and lemon oil. More carnauba wax than other brands to form a tougher layer of protection. Natural ingredients keep your family safe from harmful chemicals.
Restores & Revitalizes
Bring that shine and luster back to your cutting boards. CLARK'S oil and wax are great because they won't cause your wood to lose color or become rancid.
Easy to Apply
Simply rub the wax on your wood surface, let it sit and harden for a couple of hours and buff off any excess wax. Use the CLARK'S applicator designed specifically to make this task even easier!

What Products Is This Safe To Use On?
Butcher blocks add another layer of protection from unwanted liquids seeping into your kitchenware.
Hardwood counter tops and islands not only provide a stunning look to your kitchen, they are functionally magnificent and will continue to wow with regular care
Maintain your often overlooked wooden utensils, salad bowls, serving trays, and pizza peels.
Terrific for bamboo cutting boards, serving trays, utensils, drawer organizers, bowls, well...you get it, anything bamboo!
Cutting Board Care
Step 1 – CLEAN
Wet cutting board on all sides in the sink
Apply CLARK'S Cutting Board Soap to one side of board
Use CLARK'S Scrub Brush or similar brush to scrub soap until a rich lather forms
Clean all sides of cutting board
Rinse board with warm water
Dry board with a towel
Step 2 – PRESERVE
After board has sufficiently dried apply CLARK'S Cutting Board Oil to surface of wood
Rub oil into cutting board without spreading too thin
Coat all sides evenly (rest cutting board on a plate to help keep your counter clean)
Allow oil to penetrate wood for 1-2 hours (If applying oil to new untreated wood, repeat above oiling steps several times over a 24-hour period)
Wipe off any excess oil with a paper towel
Step 3 – PROTECT
Apply a small amount of CLARK'S Cutting Board Wax Finish to surface of wood
Use CLARK'S Applicator or paper towel to coat all sides of wood in a thin layer of wax
Allow wax to penetrate wood for 20-30 minutes
Using CLARK'S Buffing Pad or paper towel, buff off any excess wax
CONGRATULATIONS! Your wood is now Food-Safe and ready to use