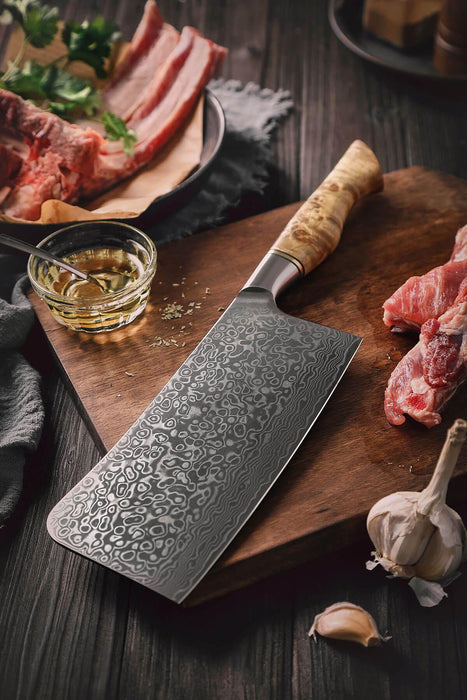 Hezhen B30 67 Layer Japanese Damascus Cleaver Knife VG10 Damascus Meat Cleaver
Availability:
in stock, ready to be shipped
Save

34

%
Save

34

%
Original price
$209.95
-
Original price
$209.95
Delivery time
You have 30 days to request a return. All sale items are final sale.
 High Carbon Japanese Damascus Steel Meat Chopping Bone Chopper Cleaver Knife
10Cr15CoMoV VG10 equivalent steel core for a strong cutting edge
Two 33-layer 316/316  Damascus Stainless Steel outer shells for rust resistance
67 total layers of Damascus steel
Edge Hardness 60-62 HRC Rockwell
15 degree cutting edge
Ergonomic Sycamore Wood Handle
Beautiful Brass Mosaic Rivet
7 inch/ 180 mm Rain Damascus Steel Pattern blade 
This lovely Meat Chopping - Bone Chopping Cleaver brings functional art to your kitchen. This Hezhen design uses 67 individual layers of Japanese Damascus steel to provide a sharp cutting edge that is resistant to rust and corrosion.
The 10Cr15CoMoV steel core provides the primary cutting edge. This steel alloy provides the best basis for a reliable, sturdy edge. When paired with a vacuum heat and deep freeze treatment. This high carbon steel will retain its edge over long periods of use without the need for sharpening. We still recommend a  to keep that razor sharp edge longer.
The reason high carbon steel is needed for this process is because carbon allows for better flexibility in addition to harder edges. The steel core has a Rockwell hardness of 60-62 which is very hard compared to other heat treatments.
This hardness range is just under the threshold for a knife edge to be too brittle. If the steel was any harder, it would run the risk of breaking under use. The 60-62 range is the sharpest you can go without having to worry about edge brittleness or the edge rolling over.
The steel core is reinforced on either side with 33 layers of 316/316 Raindrop Damascus stainless steel. Stainless steel brings a better level of corrosion resistance and resistance to rust than most carbon steels. 
Using this type of steel as an outer shell allows for the strengths of the different steels to be maximized. The steel core focusing on cutting and edge retention with the stainless steel prevents rust and other environmental damage to the knife.
The 15 degree edge angle allows for a good cutting capacity, and won't dull easily. This thicker blade edge is meant to deal with dense materials like bones. This helps the knife stay usable for longer between sharpening sessions.
A Sycamore handle compliments the Rain Damascus pattern while allowing for an ergonomic grip. This cuts down on long term fatigue from using the knife. A brass rivet using a mosaic pattern is featured on the base of the handle.
This blade is best used for cutting bone and cartilage or other hard parts that can damage other blades. The 7 inch blade allows you to power through bone and other tough materials by a combination of its weight and blade shape. Leave your bone chopping tasks to this Damascus cleaver knife. End grain cutting boards also known as chopping blocks would be great addition for your chopping knife.