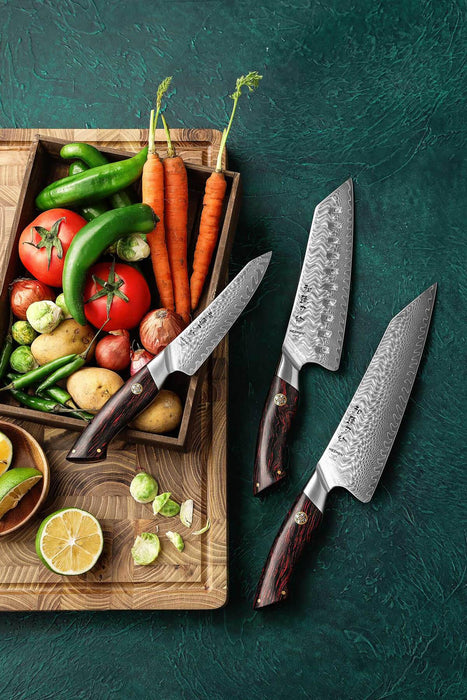 HEZHEN B38 3 Pcs 73 Layer Damascus Chef Knife Set with Wood Colored G10 Handle
Availability:
Out of stock
Sold out
Original price
$457.95
-
Original price
$457.95
Delivery time
You have 30 days to request a return. All sale items are final sale.
Damascus Chef Knife Set with Santoku, and Utility Knife.
14Cr14MoVNb Powder Steel Core cutting edge for improved wear and edge.
Two outer sets of 36-layered of Stainless Damascus Steel for corrosion protection.
73-total layers.
62-64 HRC for greater sharpness.
Gorgeous Big Rose Damascus pattern.
Wood colored "Black and Red" G10 handle.
Includes 8.5 inch/215.9 mm Chef Knife, 7 inch/177.8 mm Santoku Knife, and 5 inch/127 mm Utility Knife.
This 3 piece Damascus Steel Chef knife set is a great powder steel option to add to your kitchen. Each HEZHEN knife has a steel core covered in two protective stainless layers. All of which are properly heated using a vacuum/freezer process for consistency.
The core of the blade makes up the cutting edge and is made of 14Cr14MoVNb Powder Steel. Powder steel is a steel making method that gives a lot of control over the steel's substructure, evenly dispersing the various parts of the alloy for the best effects.
This means 14Cr14MoVNb has optimized the crystal structure of the steel in order to balance sharpness and corrosion resistance without using too many rare metals. Combined with two sections of Stainless Damascus steel, the blade can be very resistant to corrosion. The blade core and protective sections combine for a total of 73 layers. The Big Rose Damascus pattern adds a classy look to this blade.
The edge is on the higher side of hardness. The edge ranges from 62-64 on the Rockwell scale. This allows for a very sharp blade but also means it runs a higher risk of chipping. The chipping risk is mitigated by the Powder Steel structure, but will still be harder to sharpen when it gets dull.
The handles are made of G10 colored to look like Wood and mirror the Damascus pattern on the blades. Ergonomically designed to allow for hours of use, the handles comfortably sit in your hand.
This set consists of a Chef Knife, Santoku Knife, Utility Knife.
The Damascus Chef Knife has a 8.5 inch or 215.9 mm blade and is the primary cutting tool of your kitchen. Meat, vegetables, fruits, and everything short of cutting bone are within the capabilities of your chef knife.
The Damascus Santoku Knife has a 7 inch or 177.8 mm blade and focuses on thin, consistent slices. This applies primarily to vegetables, especially with high water content, but it can also apply to cooked meats. This style of knife is best used with a rocking cutting technique.
The Damascus Utility Knife has a 5 inch or 127 mm blade and is more than likely the second most used knife in your kitchen. This handles all the cutting tasks your chef knife might be too large for. Deboning meat, rough chopping vegetables, and preparing fruits are within this knife style's uses.
This Damascus Steel Chef Knife Set just might become your favorite kitchen knives. The Best Damascus Chef Knife  set is the one in your kitchen!
Remember Our Slogan: "The Best For Less, Shipped To Your Door"