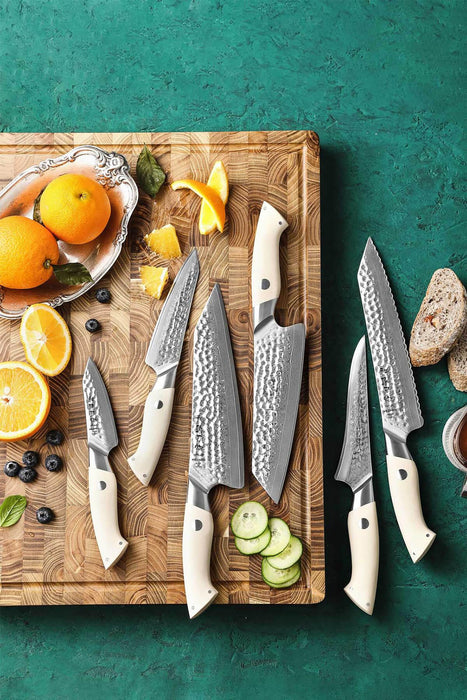 HEZHEN B38H 6 Pcs 67 Layer Japanese Damascus Chef Knife Set White G10 Handles
Save

33

%
Save

33

%
Original price
$571.95
-
Original price
$571.95
Delivery time
You have 30 days to request a return. All sale items are final sale.
This set consists of a Chef Knife, Santoku Knife, Utility Knife, Paring Knife, and a Bread Knife.
10Cr15CoMoV Steel Core cutting edge for edge retention and sharpness.
Outer layers of SUS410 Damascus Stainless for corrosion resistance.
67-total layers.
58-62 HRC for durability and edge sharpness.
Gorgeous Damascus pattern.
G10 "Ivory" handle.
Includes 8.5 inch, Chef Knife, 7 inch, Santoku Knife, 5, Utility Knife, 3.5 inch Paring Knife, 8 inch,  Bread Knife, and 10 inch, Carving Knife.
This 6 piece Damascus Chef set brings elegance and performance to your kitchen. Each HEZHEN knife undergoes a vacuum heat/deep freezer heat treatment process to ensure a consistent temper of the steel to ensure edge retention, durability, and sharpness.
The individual blades have a steel core made of 10Cr15CoMoV Steel to provide the primary cutting edge. This powder steel is layered specifically to make the most of the various metals used in the alloy. The core is protected by two 33-layered Stainless Steel sections. This helps prevent corrosion while providing a beautiful Raindrop Hammered Damascus pattern.
The outer layers and inner core combine for a total of 67-layers. This helps ensure durability and consistency in the blade's internal structure. Combined with the powder steel manufacturing, this makes the knife quality repeatable across the entire line.
The blade edge is hardened to 58-62 on the Rockwell scale. This balances the ability to sharpen the blade while having the edge stay sharp longer while reducing the chances of the edge rolling or chipping during use.
The handle is designed for comfortable ergonomics and has dehorned edges and corners. This allows you to use the knife with santoku-knife less discomfort for long periods of time. The handle itself is made of a white G10 material to simulate Ivory, making it legal to purchase and own.
This set is made up of a Chef Knife, Santoku Knife, Utility Knife, Paring Knife, Bread Knife, and a Carving Knife.
The Damascus Chef Knife has a 8.5 inch or 215.9 mm blade designed for most of your medium to large cutting tasks. The weight of the blade combined with the edge and dip design allow you to cut, slice, and chop meat, vegetables, fruits, and dense materials. But does not allow you to cut bone or similar things.
The Damascu Santoku Knife has a 7 inch or 177.8 mm blade and is designed for cutting vegetables. While it can be used to create thin, consistent cuts of meat, the Santoku really shines when cutting vegetables. Especially vegetables with high water content. The overall blade shape helps prevent watery vegetables like tomatoes and cucumber from sticking.
The Damascus Utility Knife has a 5 inch or 127 mm blade and can handle small to medium cutting tasks. This will be your primary knife in the kitchen when preparing minor dishes. The size of the blade allows for better control when cutting power is not an issue. It's great for processing meats, fruits, and vegetables.
The Paring Damascu Knife has a 3.5 inch or 88.9 mm blade and is for your smallest kitchen tasks. The short blade enables you to have the most control over the knife, making it perfect for making garnishes and processing fruit. Peeling, slicing, and other "fiddly" tasks are the focus of the paring knife.
The Damascu Bread Knife has a 8 inch or 203.2 mm blade with serrations. The serrations help the knife cut through breads and other baked goods without smashing them down. This helps preserve the flavor and helps keep messes down. Thick crusts, cakes, and softer breads can all be cut with a Bread Knife.
The Damascu Carving Knife has a 10 inch or 254 mm blade designed to work on meat. The long, relatively narrow edge helps the blade deal with larger pieces of meat like roasts, legs, and hams. This style of blade can be used before and after the meat is cooked but is usually used after when serving needs to be done.
This Damascus Steel Chef knife set just might become your favorite kitchen knives. The best Damascus chef knife is the one in your kitchen!
Remember Our Slogan: "The Best For Less, Shipped To Your Door"