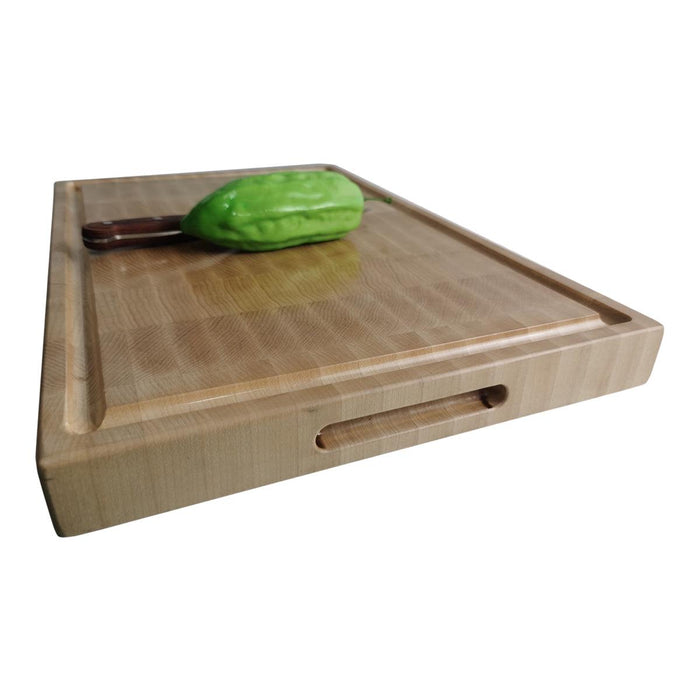 Quality End Grain Maple Cutting Board Rectangular Blocks
Availability:
in stock, ready to be shipped
Save

33

%
Save

33

%
Original price
$126.95
-
Original price
$126.95
Delivery time
You have 30 days to request a return. All sale items are final sale.
Quality End Grain Maple Cutting Board, Rectangular Blocks, 12"x18"x1.5"
Made of 20mm x 60mm wood blocks or ¾ inch by 2 ½ inches
Maple sourced in the USA
Dimensions: 12 inches x 18 inches x 1 ½ inches
Pre-soaked in mineral oil for transport
Suggested reapplication of mineral oil or board wax before use
End grain wood to prevent knife damage
Side "handle grooves" for ease of use
One flat side for vegetables, one "juice groove" side for meats
A good knife requires a good cutting board. Most people focus on the knife itself but don't realize that their cutting board plays a large role in maintaining that knife.
This end-grain maple cutting board is perfect for use with knives that have very fine edges. These are usually found on Asian knives with edge angles as narrow as 12 to 15 degrees.

End grain cutting boards have vertical grains and are, hands-down, the best option when it comes to wood. They don't show knife marks nearly as much as face and edge grain boards do, and they won't dull your knives as quickly. But they take more time to produce (making them more expensive).

Since wood is a natural material and is softer than the steel of a knife, all wooden cutting boards need special care in order to ensure it lasts a long time.
Using a wooden cutting board cuts down on the wear on a knife. But this means that the knife will generally scratch and cut into the cutting board.

To make sure the board is not damaged too much, buy use, climate and time, it's best to hand wash the entire board in warm soapy water and reapply oil and or wax every 1 to 3 months depending on use and climate. This keeps the board hydrated and resilient. Make sure to wash all the board since the wood needs to swell evenly when exposed to moisture.

If you only wash one side of the board, use hot water, or put it in the dishwasher this can cause the board to warp. If the board warps, it damages its structural integrity and can cause issues later.
You can use antibacterial dish soap to disinfect the board, or for lighter clean up, you can use a small amount of coarse salt and lemon juice. I use Clarks cutting boards soap made with organic Castile soap, with scented essential oil's that are food safe and antimicrobial.
Check more Clarks Wood Care products here.

This Maple board comes with two side grooves that function as handles, so you can easily pick the board up from the countertop. There are also two sides to the board. The flat side, which is used for vegetables and herbs.
And the grooved side which is used for meats or other items that produce a lot of liquid. The groove around the edge of the board is there to keep liquids from running off the board.

Each board is made of a certified, Maple hardwood sourced in the USA.

For more information about cutting boards check out our blog article about cutting boards for Quality knives.