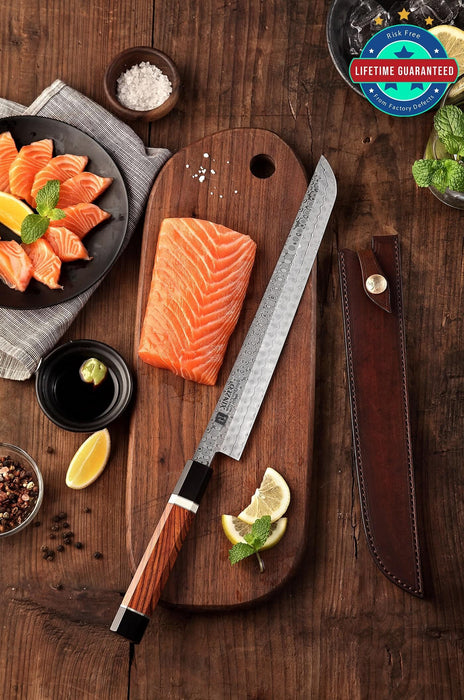 Xinzou F3 110 Layer High Carbon Damascus Steel Sakimura Kitchen Knife with G10 and Desert Iron Wood Handle
Availability:
in stock, ready to be shipped
Save

38

%
Save

38

%
Original price
$209.95
-
Original price
$209.95
Delivery time
You have 30 days to request a return. All sale items are final sale.
Xinzou F3 110 Layer High Carbon Damascus Steel Sakimura Kitchen Knife with G10 and Desert Iron Wood Handle
Sakimura Kitchen Knife Features:
High Carbon Damascus steel blade
110 total layers of steel ensure corrosion resistance and edge retention
8-12 degree edge angle for smooth, easy cuts
Ergonomic handle for perfect balance
Full tang and triple rivet design provide long term durability
3-stage Honbazuke sharpened
Handcrafted over 60 days
Beautiful G10 and Desert Iron Wood handle for durability and style
Sakimura or "Curved Tip" blade style
Raindrop Damascus pattern
59-61 HRC Rockwell hardness
10.6 inch/270 mm blade
An amazing meal needs an amazing knife to prepare it with. The Xinzou F3 Sakimura is designed to provide high quality performance while being a work of art. This blade is traditionally referred to as a Sakimura Takohiki and is a type of sashimi knife.
Some traditional sashimi knives are blunt at the tip, but the Sakimura or Sakimaru variant features a curved tip. This is to mimic the traditional point of a katana and is a more general use style of sashimi knife.
Sashimi knives need to be able to cut extremely thin slices of meat and fish in order to preserve the flavor. This is achieved by the very narrow, high carbon steel blade.
The edge angle is between 8-12 degrees which is the same angle as most razors. This edge angle can be hard to maintain, but with the use of carbon steel, this Sakimura will have great edge retention.
Using a high carbon steel is important for these types of blades. Steel with higher carbon content can produce and hold a much sharper edge than lower carbon steels.
Combined with a proper heat treatment, a carbon steel blade will hold an edge longer while requiring less effort when re-sharpening the edge.
The blade is heat treated using deep freeze and vacuum techniques to produce a more consistent hardness.
This hardness usually ranges from 59 to 61 HRC on the Rockwell scale. This is the sweet spot for edge retention and sharpness. Too low of a hardness will allow the edge to roll over, while too hard of an edge will cause chipping. Both of which will damage the blade.
While the blade is extremely sharp for those fine slices, it also features a beautiful Raindrop Damascus pattern. The pattern earned its name from its resemblance to the ripples of water when rain hits the surface of a pond.
This does not add any functional additions to the steel, but it certainly helps the aesthetics of the blade.
It takes roughly 60 days to make the blade, during which it goes through multiple processes that produce the 110 layers of steel. This brings a better structural integrity to the Sakimura in addition to corrosion resistance.
Each blade goes through the Honbazuke sharpening process. This process has three stages. The first stage uses a coarse grit stone to sharpen the blade vertically. Once it has produced an evenly ground edge, the blade is honed horizontally to refine the edge.
Finally, a leather strop is used on the blade resulting in the fine razor edge a sashimi knife needs.
A beautiful, sharp blade is nothing without an appropriate handle. The handle of this knife is shaped to provide long term comfort when using it, while looking amazing. The handle is a combination of G10 and Desert Iron Wood. Both of these materials are extremely durable.
The handle is shaped to provide stability in the hand and overall better control. This is achieved by the contouring of the handle, the dehorned edges, and the central balancing of the blade. This is important since the blade is roughly 10 inches long and designed to easily slice meat. Every bit of control is needed.
The blade comes with a presentation box and a leather sheath. Do not store the blade long term in the sheath since leather attracts moisture and this can cause the blade to rust when not in use. Be sure to wash, dry, and oil the blade after using.