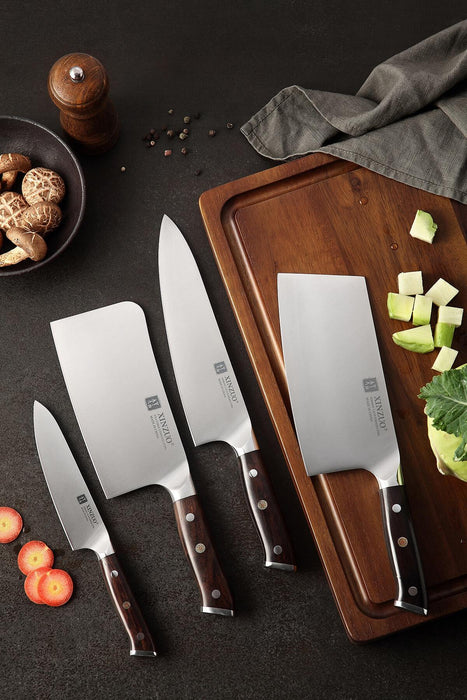 Xinzuo B13S 4 Pcs Kitchen Knife Set German High Carbon Steel Chef, Utility, Cleaver, and Bone Chopper with Ebony Handles
Save

33

%
Save

33

%
Original price
$150.95
-
Original price
$150.95
Delivery time
You have 30 days to request a return. All sale items are final sale.
1.4116 High Carbon/Stainless steel for corrosion resistance and sharpness.
56-58 HRC for durability and edge retention.
Silver accents and copper medallion.
Includes 8.5 inch Chef knife 5 inch Utility knife, 6.5 inch Cleaver, and 6.5 inch Bone Chopper.
This 4 piece Carbon Steel Kitchen knives are a function focused addition to your kitchen. Each knife is made from a High Carbon/Stainless steel blend to help ensure a good balance of corrosion resistance and sharpness.
The blade steel is 1.4116 German Steel or X50CrMoV. This style of steel is vacuum treated to get consistent hardness and durability. Tempered to 56-58 HRC on the Rockwell scale, this steel isn't as brittle as other options. This makes it more durable in the long run, but it won't have the physical capability of reaching some of the sharpness levels of knives with harder edges.
The handle is made from a beautiful Ebony wood in a more Western style. The stainless accents are offset by a single copper medallion in the handle. The handles are dehorned for long use without discomfort.
The 8.5 inch Carbon Steel Chef knife is a traditional Western-style design. This means it can slice and dice most foods ranging from fruits to meats to chocolates. This knife will be your go-to knife if you do a lot of heavy cooking.
The 5 inch Carbon Steel Utility knife is for more general tasks. It is not a specialized knife design but this allows it to handle more situations than more refined blade styles. If you want more control compared to a Chef knife, the Utility knife is the answer.
The 6.5 inch Carbon Steel Cleaver is designed for processing large amounts of food. This cleaver style is not made for hitting bone, but is for cutting through stacked lettuce, cabbage, and similar vegetables. This allows for very consistent cuts but requires a little more skill as most people will think it's designed for working with bone.
The 6.5 inch Carbon Steel Bone Chopper is often confused with the vegetable Cleaver but is actually meant to separate bone and gristle. This means it's designed for harder use while processing meat like ribs, etc.
1.4116 German Carbon Steel may not be the best steel for kitchen knives, but with its corrosion resistance, durability and ease of sharpening, it is a contender.
These Stainless Steel Kitchen Knives are higher quality and better looking than our low prices would indicate. Don't be afraid to show them off!
Remember Our Slogan: "The Best For Less, Shipped To Your Door"