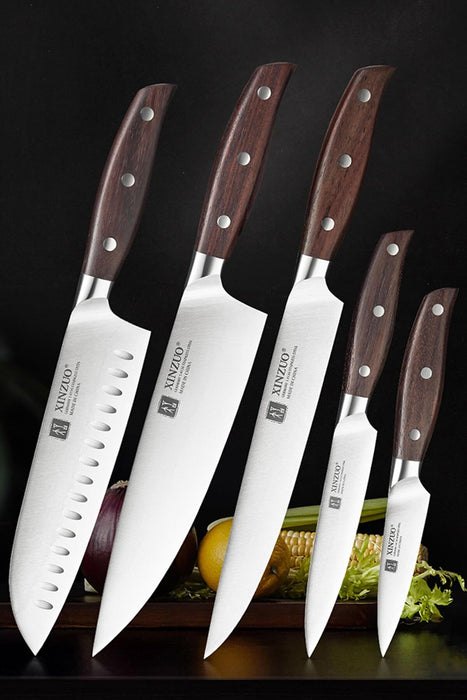 Xinzuo B35 5 Pcs German Steel Kitchen Knife Set with Carbon Steel
Availability:
Out of stock
Sold out
Original price
$149.95
-
Original price
$149.95
Delivery time
You have 30 days to request a return. All sale items are final sale.
German Din 1.4116 Stainless Steel.
54-58 HRC Rockwell hardness for durability.
Rust resistant.
Red Sandalwood handle.
Ergonomic grip for comfortable use.
This knife set include Chef Knife, Santoku, Utility, Paring & Carving
This 5 piece Kitchen knife set is a good option if you want more function in your kitchen. Each knife is made from German Din 1.4116 Stainless Steel making it a good balance between edge retention and corrosion resistance.
The edge is hardened to 54-58 HRC on the Rockwell scale. This is a relatively soft temper that lends durability to the knife as a whole while making it easier to sharpen. Since German Din 1.4116 is technically a Stainless steel it makes it easier to maintain since rust doesn't build up as easily on it.
The handle features stainless accents and Red Sandalwood grips. The handle design gives a rustic appeal with the functionality of more traditional Western knives.
The 8 inch Carbon Steel Chef knife is a wonderful mainstay of the kitchen. It easily cuts and dices whatever you need it to except hard materials like bone. Most large cutting tasks will be the purview of this knife.
The 7 inch Carbon Steel Santoku knife works best with vegetables, although it can thinly slice meats as well. The blade design makes dealing with tomatoes and other water based vegetables easier, since they will stick less to the blade.
The 5 inch Carbon Steel Utility knife handles what the Chef knife can't. More control and a generalist design, Utility knives work best with medium to small cutting tasks and food preparation. This comes from their narrower designs that aren't weighed down by a larger blade.
The 3.5 inch Carbon Steel Paring knife deals with the smallest and finest cutting tasks. Garnishes, fruits, and similar vegetables are peeled, sliced, and cut with the paring knife. This style of knife is great for when you need the most control and the least amount of knife.
The 8 inch Carbon Steel Carving knife is good for your large meat based tasks. Carving knives are designed for dealing with those cuts of meat that have little to no bones in them. This includes turkey breast, lamb legs, roasts, and hams. This can be done before and after cooking.
1.4116 German Carbon Steel may not be the best steel for kitchen knives, but with its corrosion resistance, durability and ease of sharpening it is a big contender.
This Kitchen Knife Set is higher quality and better looking, than our low prices would indicate. Don't be afraid to show them off!
Remember Our Slogan: "The Best For Less, Shipped To Your Door"