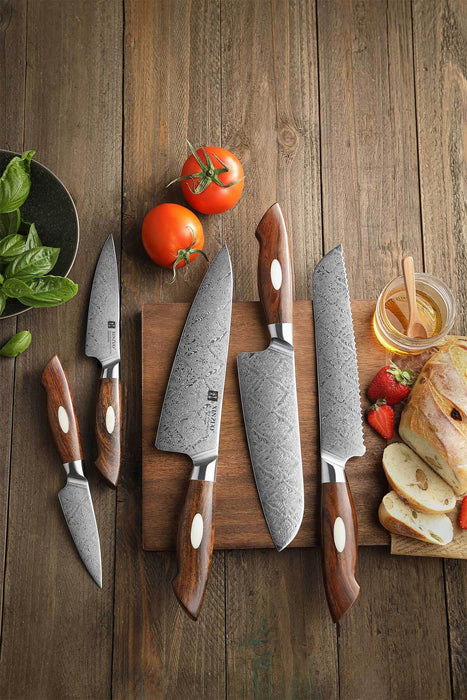 Xinzuo B46D 5 Pcs 110 Layer Damascus Chef Knife Set Desert Ironwood Handles
Save

33

%
Save

33

%
Original price
$813.95
-
Original price
$813.95
Delivery time
You have 30 days to request a return. All sale items are final sale.
This 5 pcs set consists of a Chef, Santoku, Utility, Paring and Bread Knife.
10Cr15CoMoV Steel combined with 9Cr18MoV steel.
Dual blade core for sharpness and rust resistance.
110-total layers of folded – steel Big Rose Damascus Pattern.
58-62 HRC rating for edge durability.
North American Desert Ironwood and Synthetic Ox Bone handle.
Includes 8.5 inch Chef knife, 7 inch Santoku knife, 5 inch Utility knife, 3.5 inch Paring knife, and 8.5 inch Bread knife.
This 5 piece Damascus Steel Chef Knife Set brings a functional beauty to cooking. This comes from a combination of the handle materials and the blade steels.
Each blade is composed of two steels layered 110 times to create a dual blade core. Unlike other designs that use an outer cladding of steel to achieve this number of layers, this is actually a combination of two different steels. All folded to create a beautiful Big Rose Damascus Pattern.
The steels in question are 10Cr15CoMoV and 9Cr18MoV. These combine to create a blade that has consistent sharpness and a good resistance to corrosion. Due to the tempering process this steel combination can be hardened to 58-62 on the Rockwell scale making it great for kitchen knives.
This hardness range is a balance between edge hardness and ease of sharpening. If the hardness was increased you will run a great risk of chipping and damaging the blade. If you go softer, the edge is more likely to roll over and dull.
The handles are dehorned and ergonomic to help make the knife comfortable to use for long periods of time. There's nothing worse than having to use a knife that creates a hotspot on your hand for a few hours.
The handles are also made from North American Desert Ironwood and a Synthetic Ox Bone decoration. This offsets the beautiful Damascus pattern on the blade while also creating a durable handle that will last for a long time.
The 8.5 inch Damascus Chef knife is a great example of a traditional Western-style Chef Knife. This blade shape is excellent for your medium to large cutting tasks. It can handle slicing fruits, vegetables and meat in addition to dicing and some light chopping.
The 7 inch Damascus Santoku knife is more geared towards vegetables. Particularly things like cucumbers and lettuces, anything with a higher water content. The blade shape lets you cut very consistently and thinly making it a good beginner's knife. It uses a rocking cutting method and works well on cooked meats in addition to its normal vegetable tasks.
The 5 inch Damascus Utility knife deals with the tasks that your Chef knife won't handle. While the blade is similar to a Chef knife, it lacks the blade length and the associated cutting power. Medium to small tasks are where it really shines, cutting and preparing meats and vegetables for cooking.
The 3.5 inch Damascus Paring knife has the smallest tasks to handle. Making garnishes, preparing fruit, and dealing with any thing that requires a lot of control to do is where the Paring knife is at home.
The 8.5 inch Damascus Bread knife is great for homemade breads and even other baked goods. The serrations allow it to saw through fluffy and dense materials without crushing them. This is important for maintaining consistency and flavor for some foods.
This Damascus Steel Chef Knife Set is destined to become your favorite kitchen knives. The Best Damascus Chef knife set is the one in your kitchen!
Remember Our Slogan: "The Best For Less, Shipped To Your Door"