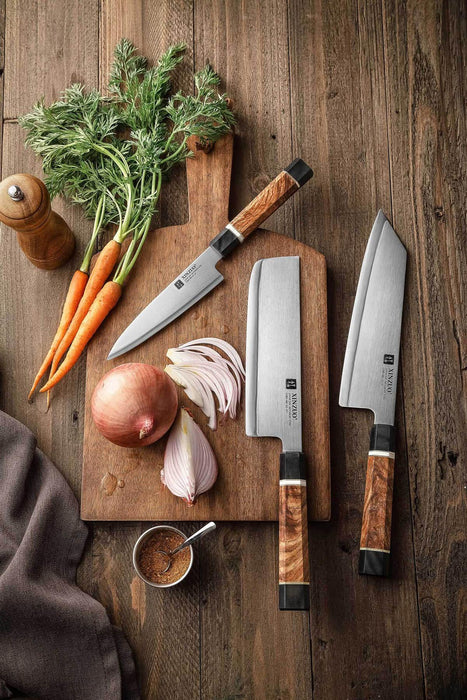 Xinzuo ZDP-189 3 Pcs Composite Steel Chef, Nakiri, and Utility Knife Set with Padauk Wood Handle
Save

33

%
Save

33

%
Original price
$1,253.95
-
Original price
$1,253.95
Delivery time
You have 30 days to request a return. All sale items are final sale.
Hitachi ZDP-189 Powder Steel for exceptional hardness.
SUS405 Stainless Steel to help prevent rust.
3 total layers.
65-67 HRC on the Rockwell Scale.
Black G10,White Ox Bone, and Padauk Wood Handle.
Hand brushed finish.
Tradition Japanese Octagonal handle design for comfort.
Includes 8.3 inch Chef knife, 7 inch Nakiri knife, and 5 inch Utility knife.
This 3 piece Kitchen knife set is extremely high performance. This is because of a combination of the blade steels and the overall design.
The blade is made up of three different layers of steel and uses two different steels to achieve the best combination of factors. The blade core is made from ZDP189 Powder Steel. Powder steel is a very consistent manufacturing process that essentially allows the steel to be tailor made for specific purposes.
In this case, the core is very hard allowing for extremely sharp blades and good edge retention. However this makes it harder to sharpen when they do start to dull, but this also takes longer to achieve. The edge is hardened to 65-67 on the Rockwell Scale which is some of the highest hardness you can have on an edge.
The core is sandwiched between two sections of SUS405 Stainless steel. While ZDP-189 is moderately resistant to corrosion, SUS405 has better anti-rust capabilities. This means the primary cutting edge  is made from the sharpest steel variety while the rest of the outer knife portions are more rust resistant.
Each handle is made from Black G10,White Ox Bone, and Padauk Wood. The handle shape is octagonal which allows for better comfort with long use.
The 8.3 inch Chef knife is more of a Kiritsuke style. This traditional Japanese blade style is often used for sashimi knives or general purpose kitchen knives. The edge focused tip and long blade allow for long, clean cuts. It also allows for better rocking cuts and good drawing slices.
The 7 inch Nakiri knife is a slightly confusing design. At first you would think this blade style is for processing meats, especially separating bone and gristle from each other. However Nakiri knives are actually designed for cutting vegetables and other precision cutting tasks. This style of blade is great for making fine vegetable strips and julienne cuts.
The 5 inch Utility knife features a miniature Gyuto (Chef knife) design. This allows it to work with most small to medium cutting tasks that you wouldn't use a full sized Chef knife on. This knife is great for food preparation, making edible decorations, and just general cutting tasks.