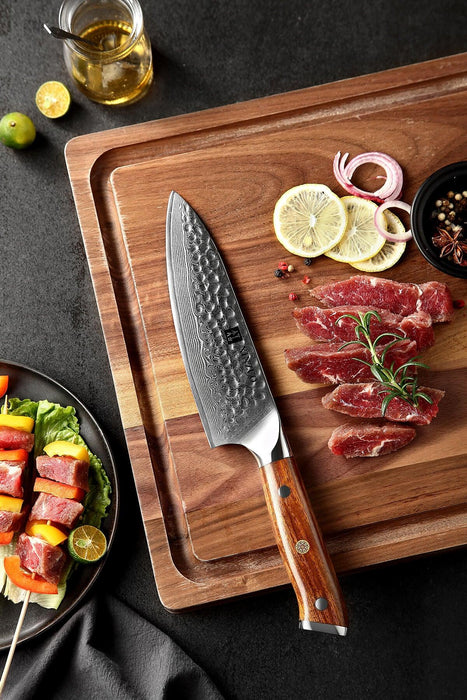 Xinzuo B13D 6.5" 67 Layer Japanese Damascus Chef Knife Damascus Steel Chef Knife
Save

34

%
Save

34

%
Original price
$112.95
-
Original price
$112.95
Delivery time
You have 30 days to request a return. All sale items are final sale.
Xinzuo Damascus Super Steel Razor Sharp. 
Classic Design/Custom Steel/Fine Workmanship. Yu Series 6.5"
Chef Knife
Product Details:
67 Layers Damascus Steel
Hardness 60±2HRC
33 layers 316/316L stainless steel
10Cr15CoMoV Core steel
33 layers 316/316L stainless steel
North America Desert Ironwood Handle
Vacuum Heat Treatment Persistence Sharpness
Wet Method Edge 15° 12 Production Processes
International Standard For Cutting Force
Artistic Design And Crafts Practical And Beautiful
Key for great Damascus Knife. Three Important Key Technologies:
1. Select high-quality
core steel
, mature and stable forging technology.
2. professional heat treatment technology, show full spec. of steel.
3. Excellent processing technology, all details pursuit of perfection.
Persistence Sharpness:
Ideal Choice, More Fun In The Kitchen. Only with a durable sharp damascus steel
kitchen knife
, that we can enjoy the fun in the kitchen.
67 Layers Damascus Steel:
10Cr15CoMoV
Core Steel
. Add rare metal cobalt, the blade is hard but not brittle, and it is well known because for its sharpness.
Vacuum Deep Freezer Heat Treatment:
Provide Full Play To The Steel Performance. With Vacuum deep freezer heat treatment, knives has a higher hardness, better sharpness and durability, comparing to the normal heat treatment products.
Material Performance Comparison:
67
layers Damascus
steel with vacuum deep freezer heat treatment, hardness stable at 60±2HRC,persistence sharpness, better durability.
Ultra-sharpness Edge:
More Labor-saving Cutting. 12 production processes to
sharpen the knife
edge, wet type hand crafted cutting edge sharpness last long time.
Excellent Processing Technology:
All Details Pursuit Of Perfection. The blade surface is finely processed, super anti-rust and corrosion sharp and durable.
Sharp And Great Knife:
Bring A More Healthier Food. Easy to cut various ingredients and make sure the original taste of ingredients.
Real
Damascus Steel:
Unique Fascing Natural Pattern. The real
Damascus steel is made of 67 layers
of composite forging after processing, which has a unique natural pattern.
North America Ironwood:
Exquisite Mosaic
Brass Rivet
. It has been polished by experienced craftsmen through multiple processes, beautiful looking.
Classic Handle Design:
Ergonomic Well Balanced Handle. Intelligence everywhere, classic and innovation, excellent touching high-end Appearance.
Sturdy And Durable:
Good Knife In Hand, Handy To Use. Combining beauty and practicality, feel the high quality
kitchen knife
during use.
Exquisite Gift Box Packaging:
Gift-giving And Self-use Are All Suitable.
Detailed Parameter:
Yu Series 6.5" Chef Knife
Length: 293mm
Handle Length: 128mm
Blade Length: 165mm
Manual measurement, 0.5mm deviation under tolerance
Blade Width: 45.5mm
Hardness: 60±2HRC
Blade Material: 67 Layers Damascus Steel
Thickness: 2.4mm
Handle Material: North America Desert Ironwood
Net Weight: 232g
Use For: Suitable for daily kitchen cooking, cutting meat, slices, vegetables, melons, fruits and so on. (don't use it cut the bone or other hard food)
Warm Tips:
1. Please don't use these
knives to cut the bone
or other hard food, otherwise it will damage the blade; also don't beat the food with the knife surface.
2. To ensure the knives' anti-rust function, please don't let acid or corrosive juice left in the knife surface too long, such as tomato juice, lemon juice, etc.
3. After use, be sure to clean the knife, but don't wash in the dishwasher. Dry it with a clean cloth, and place it in a dry and ventilated place.
4. To ensure reaching a better cutting effect, please select different types of
knife to cut
different kind of food.
5. When the
knife is blunt, please use sharpener or whetstone grinding forth and back a few times, then the knife will be as sharp
as new again.
6. Please do not use your finger to test the sharpness of the blade.